Back in 2007 a team of researchers began a daring project, which might bring a lot of new perspectives and options for the medical world of today.
A team of scientists led by Dr. Radu Silaghi-Dumitrescu at Babes-Bolyai University in Cluj-Napoca, Romania, recently announced that they have developed a formula for artificial blood.
The Romanian scientists had successfully tested on mice this unique formula for artificial blood.
This is a major breakthrough which will hopefully put an end to blood supply shortages and prevent complications in emergency cases.
There have been many previous attempts at creating artificial blood which have failed and here is Dr. Radu Silaghi-Dumitrescu`s words on this: "There are a few decades since this grievance exists worldwide. People have tried to do similar things with substances extracted from animal blood. This is practiced in the U.S. and elsewhere. There have been many companies that have tried, even with the help of the U.S. military, but most went bankrupt due to clinical trials that haven't produced the expected results."
So to cut a long story short, along time scientists couldn't find a protein that would resist chemical and mechanical stress. It seems that with previous attempts often the artificial blood would produce toxic by-products that made it unsuitable for transfusion (it would become toxic once inside the body).
Dr. Radu Silaghi-Dumitrescu also pointed out certain essential and interesting details which constitute the base of their project and which was in fact the key of success in this mission.
The specialists from Cluj-Napoca created the successful formula by using a blood protein extracted from sea worms which is called hemerythrin.
Hemerythrin, is like the hemoglobin from our blood, also based on iron but more resistant to stress factors, Dr. Radu Silaghi-Dumitrescu explained.
He also added that: "Hemerythrin is not a new substance, though it is for the first time used for this purpose. If in the beginning actual marine worms blood was being used, now this protein is grown by using genetically modified bacteria obtained in the laboratory. The solution also contains water, salts and in some preparations is being added albumin, another protein as an agent for protection against stress agents. "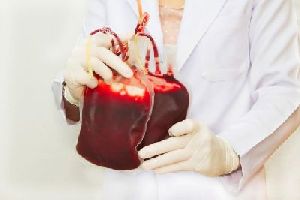 Dr. Radu Silaghi-Dumitrescu describes the formula as being unique in the world of artificial blood: "The novelty in our product is that it has the ability of carrying oxygen just like real blood would do, is completely sterile and can be produced in unlimited quantities, as a laboratory substance".
He also added that artificial blood is not supposed to be kept inside one's body for more than two days as it couldn't permanently replace the role of blood: "Our goal is survival in an emergency or surgery situation. The solution allows the body to function for a day, for several hours, until its own blood is being regenerated with all the other functions" said the Doctor.
The concern in this entire story is the limited financial strength for successfully completing the project.
For the reason that as it happened before in the history of Romanian research, this invention could result in being lost due to the uncertainty of the project's financing.
Even though the ministry is for now showing its interest and excitement for financially supporting this project (like so far did), researchers can not go on with their work if they don't know about their funding in advance (how much they will receive and for how long).
In Romania it is quite difficult to find the necessary funds to finance a project of this magnitude and the skepticism of the researchers regarding a successful finalization is also pronounced.
The journey of the specialists on this mission is far from over, as there are several other essential steps that must be taken in order to fully complete it.
The preliminary phase of their work is represented by a thorough testing of the formula.
When it comes to opinions for this kind of procedures, even in cases of regular routine blood transfusions, these are divided.
Although one thing is certain: as long as a method or product does not cause side effects or these are extremely tiny, the world has no reason to reject it.
As for the labor merit recognition of the specialists that worked on the project, remains to be seen.
And since because Romania has limited powers, Dr. Dumitrescu is shown to be quite distrustful: "I do not really see how I could get such an award in Romania. In Romania are good ideas, but experience teaches us that it's not enough. I want to mention about the situation in which scientist Gheorghe Benga, that had a stroke of genius and that has proved as being just as feasible in the laboratory, but the Americans were the ones who concluded with the idea and took the Nobel. They were the ones with the technology, speed, administrative efficiency to complete the Romanian's research. In Romania lacks predictability and administrative efficiency to be in this competition. There are probably more effective groups of researchers who will overtake us. "
As a Romanian, I for one hope that this will not be the case and that the ministry will make sure that these bright minds of Romania will be worldwide acknowledged and appreciated as they truly deserve.
There were and still are too many cases in which Romania loses its acknowledgement in front of the world but also talented and brilliant Romanians due to the mismanagement and lack of interest from those running the country.
In my opinion it's not enough attention being paid to those who can significantly improve the fate of Romania.
However, I can sincerely say that all Romanians every where should be proud since there are so many bright minds in Romania.
Furthermore their breakthrough is one that brings a huge contribution in the medical world, a discovery that is worthy of the Nobel Prize.
Did you enjoy this article?
If you found this article useful please take a moment to tweet, like, or share this article by using the buttons at the top or bottom. I'd really appreciate it.
Also, if you are feeling extra generous please leave some encouraging feedback in the comments section at the bottom of the page. I love getting feedback from visitors. It will encourage me to write more natural treatments that are cheap and effective!
Thanks for taking the time to read my website and I hope to see you here again soon!
More Helpful Information On Romania: