There are a number of sporting legends from Romania that are world famous.
From the record breaking gymnast Nadia Comaneci to footballer Gheorghe Hagi from the famous Romanian team of the 1990's.
Gymnastics
Nadia Comaneci scored the first ever perfect 10 for her performance on the parallel bars at the 1976 Olympics in Montreal.
When the traditional scoreboard manufacturer asked before the Olympic games whether 4 digits would be necessary for gymnastics, they were told that a perfect 10.00 was not possible.
The impeccable marks for Nadia Comaneci (aged 14 at the time) were so rare that the board could not cope with the extra digit displaying as 1.00 instead, making everybody at first confused.
After the crowd heard the broadcaster correction over the score, the packed stadium gave her a rousing ovation ranging out with cheers.
Tennis
Ilie Nastase (born on July 19 1946) is a Romanian World Number One professional tennis player.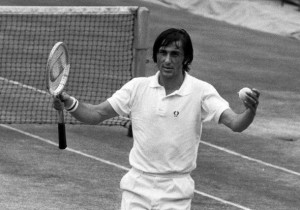 In the 1970`s he was one of the world`s top players winning more than 100 ATP professional awards (57 singles and 45 in doubles).
His name was included into the International Tennis of Fame in 1991.
Ilie Nastase won several important prizes that made him one of the world`s famous professional top tennis players.
Tennis Magazine ranked him in 2oo5 as the the 28th-best player of the preceding forty years.
Football
Gheorghe Hagi (born 5 February 1965) is a former Romanian footballer.
During the 1980s and 1990s he was one of the best attacking midfielders in Europe and is considered the greatest Romanian footballer ever.
Due to his performance on the football field, Romanians fans called him "Regele" (The King).
While Galatasaray fans named him "Commandante" (The Commander).
Like any great sportsman, he is being considered a hero in his motherland, winning the award "Player of the Year" seven times.
His glory will forever follow him, as he is now considered one of the best football players of the 20th century.
"The Maradona of the Carpathians" as he was also called, played for Romania 124 times and is the country`s top scorer with 35 goals.
Did you enjoy this article?
If you found this article useful please take a moment to tweet, like, or share this article by using the buttons at the top or bottom. I'd really appreciate it.
Also, if you are feeling extra generous please leave some encouraging feedback in the comments section at the bottom of the page. I love getting feedback from visitors. It will encourage me to write more natural treatments that are cheap and effective!
Thanks for taking the time to read my website and I hope to see you here again soon!