Mamaia, Romania is the largest beach resort on the Black Coast Sea (length of 7 km and a width of 100-250m).
Throughout the sand covered beaches are elegant hotels on the seafront, offering a beautiful view — unlike other beach resorts where accommodation is spread throughout the area.
Georgi says: "Mamaia is to the North of Constanta and is great for young people looking for a party! It is known as the Ibiza of Eastern Europe. Family's should give it a miss and head to Eforie instead."
Climate
The temperate climate with marine influences allows development for the coastal tourism as the average annual rainfall has a low value (about 400 mm/year).
Summer season lasts from early May to late September and the eastern exposure helps increasing the time spent tanning on the beach as the sun stays shining longer.
So if you decide to travel to Constanta during the summer, you will only need light clothes, open shoes, sunscreen, and swimsuit.
Transport
If you find yourself going around by car, this resort can be reached by passing an instant barrier at the entering point (near Parc Hotel), where there might be required in paying a small fee.
Another way of enjoying the view of Mamaia, is by cable car , this being one of the most popular ways of transport through this area.
So if you don`t have a fear of heights (50 m away from the ground) than this could be one way of observing the resort along a distance of 2 km.
Constanta City Tour is a freshly installed urban transportation that runs from the Train Station of Constanta to Mamaia barrels area. It has 7 stops, all of them with a touristic attraction. This route has about 30 km and the complete circuit takes about 2 hours.
RATC is the means of transportation through Constanta and it connects the city with Mamaia resort as well.
Shopping & Recreation
Mamaia is also packed with shops and boutiques selling traditional things for those who like keeping souvenirs.
The resort`s nightlife offers many options for everyone. There are Cafes and restaurants, terraces and taverns, bars and pubs along with plenty of luxurious clubs that stay open until dawn.
Sport & Exercise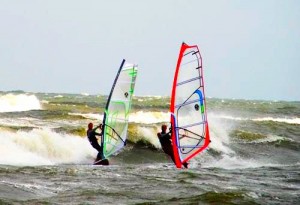 Mamaia the most lively resort on the seaside it`s not only a perfect choice for people who love having fun but as well for those that are active and enjoy sport.
Many water sports take place in Mamaia, like:
Sailing
Water Skiing
Swimming
Wind Surfing
Scuba Diving
Paragliding
Water Bike
Jumping Rope
Did you enjoy this article?
If you found this article useful please take a moment to tweet, like, or share this article by using the buttons at the top or bottom. I'd really appreciate it.
Also, if you are feeling extra generous please leave some encouraging feedback in the comments section at the bottom of the page. I love getting feedback from visitors. It will encourage me to write more about Romania!
Thanks for taking the time to read my website and I hope to see you here again soon!
More Helpful Information On Romania: